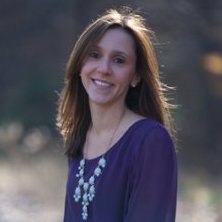 Where's the F%&$#!ing Stork?! A Love Story.
A Love Story
Umm, wow, well...where do I begin? I guess there is no better place to start than with introductions. My name is Justine and my husband is Dan. Perhaps like you, we've been impatiently waiting for that darn stork to drop a baby on our front porch.

Our love story began in 2007. We met in college during the fall semester of our senior year. For me, it was love at first sight.
Dan was tall, dark and handsome- check, check & check! But beyond that, he was so kind, so intelligent and oh, so funny. We hit it off immediately and have been together ever since- I truly can't picture my life without him, he is the love of my life and my absolute best friend. Our life together followed a typical trajectory - we dated, bought a house, got engaged, got married, got a puppy (our fur baby, Ralphie, who is the light of our lives!) …but that baby piece? Well, it hasn't come so easily to us.
Now, I will admit that we knew we didn't want to have a baby right away. We agreed that we wanted some time as husband and wife - to just be us, to have fun, to go out, to travel - and I'm so glad we had that time because we have created so many wonderful memories (not to mention inside jokes!) together. We decided, about 17 months ago, that we were ready to expand our family- and our hearts- to include a baby. The first few months that we tried, we didn't think anything of our lack of success. We knew that it could take some time for people to conceive, but after a while, (and after hearing the news that our friends were expecting their first and second children) it got to be overwhelming for me. I am a worrier by nature so it was no surprise to Dan that I was concerned. He kept reassuring me that it would be fine, that we would have a baby in due time, and not to worry - but once we hit that year mark, well, I think we both thought "Oh sh*t, what is going on?" I know, from talking afterwards that we both thought to ourselves "Is it you? Is it me?" We didn't speak those thoughts out loud at that point because we both knew if we talked about our lack of success, it would have made it more real- a genuine problem we would have to face.
A few more months went by and on the day I got my period for what seriously felt like the millionth time, I said to him, "Done...can't do this anymore." Every month that had gone by, I had held onto hope, and every month when my period showed up, I felt that hope slip farther and farther away. What I was hoping for was simple - to take a pregnancy test and see that positive result. I even brainstormed ways I would surprise Dan with the news, even though he told me he always wanted to be there when I took the tests. It just never happened. Feeling heartbroken, we promised each other that right after my sister's wedding, if we weren't pregnant, we would schedule an appointment with a fertility specialist and that's exactly what we did.
So, here we are. And while we are still hoping that darn stork might cooperate, we have decided to do what we can to encourage that stork along. And we want to share that journey with you.
You may wonder, "Why share your story?" And that's ok...many people have asked, and we respond the same way every time. "Why not?" I've worked in the fertility field for some time now and the one, single thing that breaks my heart every time is that so many couples suffer in silence. Infertility is a disease; we don't choose it, it chooses us. Dan and I don't feel ashamed of it. And we want you not to feel ashamed of it either, which is why we vowed to each other that no matter what, we're going to talk about our experiences. We want to share our feelings of hope, heartbreak, you name it...because we, like you, are not alone. One in eight couples experience infertility, but ya know what? We all can and will get through it one way or another because the bigger picture - that little miracle that I dream of holding in my arms one day is SO worth it. We hope you'll stick around for this journey with us. We encourage you to share your feedback and your experiences with us because we are here for you - to vent, to laugh, to cry, to just be. Let's just promise each other one thing - we will not do this alone.
About Justine Houle- "Where's the F%&$#!ing Stork?!"
Justine Houle loves a great pair of shoes, and her boys Dan (husband) and Ralph (a very handsome pup hailing from Tennessee which must be where he gets his southern charm). She began her career in childcare and then joined the RMA of CT team in 2011 as a Patient Coordinator. She's served several roles in the organization since then but most recently as the Marketing Operations Coordinator. She is well known for her impeccable style - and recently became an independent stylist for Stella and Dot. On the weekends, she can be found tooling around with her boys in Fairfield, CT where she grew up and currently resides.