Three Steps to Take While Waiting for Your Fertility Consultation
The days leading up to your initial consultation can seem to drag on at a sloth-like pace. (Fun fact: on average, sloths only travel 41 yards a day – less than half the length of a football field*).
You've finally made the decision to start a new chapter in your family building story, and now you have to wait. Here are some steps that you can take in preparation of your first appointment.
Waiting For Your First Appointment at a Fertility Clinic
1. Avoid "Dr. Google" – Visit our website instead!
Many patients like to be informed about the fertility treatment process and look to the internet for information before their first appointment at a fertility clinic. However, questionable sources and forums can be misleading and confusing. This is the exact reason why Reproductive Medicine Associates of Connecticut (RMACT) has such a comprehensive website. At RMACT.com, you can explore the treatment options, meet your fertility doctor, and even learn about your patient care team.
2. Utilize RMACT's support services or attend an educational event.
RMACT cares for patients with a holistic mindset treating mind, body, and spirit. The services available to patients and the general community include yoga, acupuncture, support groups, and free fertility testing events. Check out our monthly calendar for a list of upcoming events.
3. Check Your Fertility Benefits.
Call your insurance company ahead of time to inquire about your fertility benefits. Some insurance companies require you to preregister with their fertility department in order to obtain coverage. Request copies of any relevant medical records. Some practices take up to a month to release records.
Finally, compile a list of your questions and concerns so that you can make the most of your time with the doctor and your care team.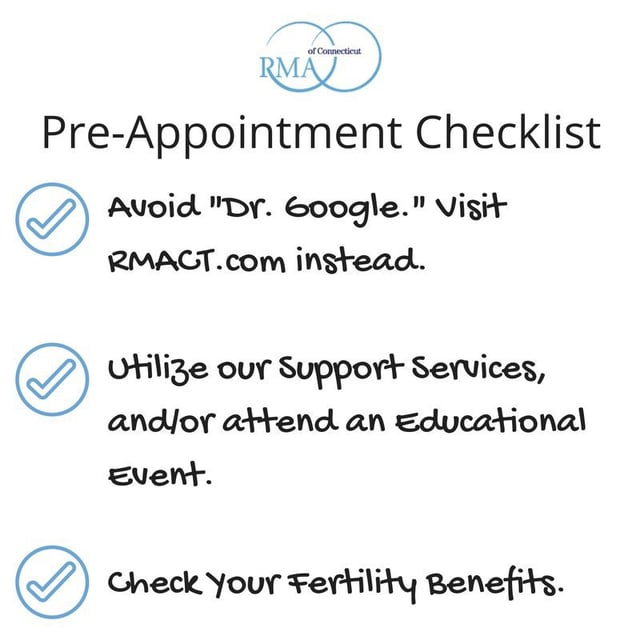 *http://www.worldwildlife.org/stories/why-are-sloths-slow-and-other-sloth-facts
About Kate Doyle
As RMACT's New Patient Liaison, Kate Doyle is the first person who speaks with patients before they schedule their initial appointment. Kate recently started contributing to RMACT's blog, PathToFertility.com. In "Kate's Corner" she shares her perspective on topics that interest new patients. This glimpse into fertility treatment gives readers a candid knowledge and insightful tips. Kate started at RMACT as a Patient Navigator in January 2013, which is when she learned that she enjoyed guiding patients through the ups and downs of treatment. Her current position enables her to work with patients at the onset of treatment when they need help bringing their limited understanding of infertility into focus.