Infertility Nurse Shares Personal & Professional Story About Fertility Journey
RMACT Team | Support | Nurse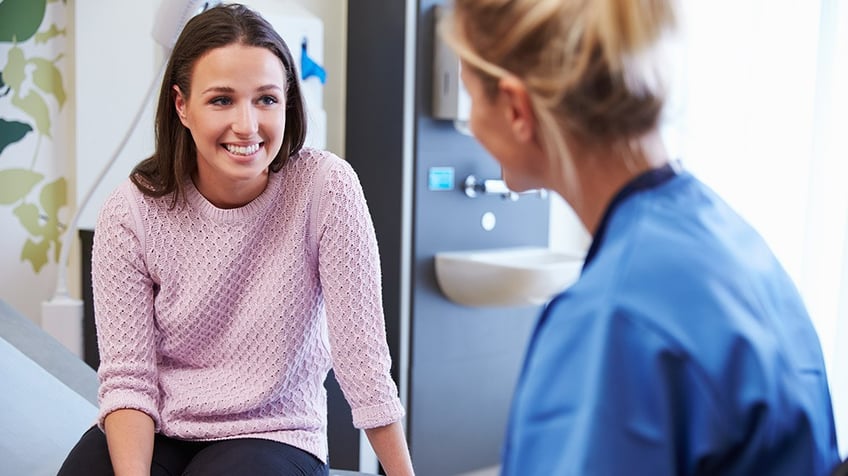 Susy Ferreira joined Reproductive Medicine Associates of Connecticut (RMACT) within the last year. As this was her first experience as a nurse in the fertility field, we thought it would be interesting to get her thoughts on why she decided to work with fertility patients and how the experience was going for her.
It's not often that you get the inside story of how your medical caregiver came into the particular field that they did. Ms. Ferreira was gracious enough to share not only her professional story, but her personal one as well. Her interesting answers to the questions posed may very well surprise you!
Susy Ferreira, Infertility Nurse at RMACT
I am a mom of 2 boys, ages 12 and 14. I started my career as an underwriter for ocean marine first party and liability coverage. Several years ago, I went back to school for nursing. I enjoy running and staying active. I am currently training to run half a marathon.
An Interview with an Infertility Nurse
As a new nurse, what led you towards reproductive medicine? What gave you the idea that it might be something you would be interested in?
I went into nursing to become a psych nurse. After one of my psych rotations I realized how much I missed labs and the science behind medicine. When I took the maternal-fetal medicine rotation, I fell in love. I think I was one of the few in that class who loved the experience. From that point on I knew I wanted to concentrate in women's health but still needed some experience with medical surgery first.
Were you correct in what you thought it would be like?
Nothing really prepares you for infertility from a clinical perspective as it wasn't covered in school. I was surprised by how much sitting at my desk I would be doing! It's a very detail-oriented field but fascinating nonetheless. I definitely realize that I am getting a good amount of exposure in not only the science behind infertility but also the important aspect of the psychological/emotional roller coaster many of our patients face.
What's harder than you thought? What's easier?
It's always very difficult to deliver what I know is disappointing news. Since I myself appreciate "next steps" mentality, I try to prepare my patients to continue to look forward. Not really sure anything is easier than I expected except for my new commute to work.
Do you see the needs of the patients at RMACT as challenging to work with?
Anytime you're dealing with something that is not entirely in your control, disappointment is always a possibility. The best I can do is explain the plan of care with compassion and help them manage their anxious feelings.
What do you see about infertility patients that you expected? And what do you see that you didn't expect?
The emotions they share were what I expected – hope anxiety, etc. My own experience was that it took 15 months to get pregnant with my oldest son who is now 14. I was in my mid 20's, so I was really surprised to find that we were having trouble. We both went as far as having diagnostics done and in my case, I was lucky, it was an easy hormonal fix. I know from my experience how frustrating it can be to get disappointing news month after month. I am glad I know what that feeling is like so I can sincerely empathize with my patients.
What would you hope that every infertility patient would take away from their treatment cycle, successful or not?
That they did everything they could within their means to pursue having a baby. That we did everything that we could and that they do not feel guilt.
Can you share a few things that happen at work on an almost daily basis that make you smile? That make you feel hopeful? The positive pregnancy tests are the best moments! The people I work with put a smile on my face daily…especially when Nina makes her delicious cakes!
Now that you're working with people who are having trouble conceiving, is there something to you want to say to your friends and family who don't have children yet? There is hope. Knowledge is power. Having a robust understanding of your health and genetics is powerful and should help lessen their anxiety. Remember that there is testing to see where you are with your fertility even if you're not ready to have a baby. RMACT regularly has days where you can come and get tested for free.
Does working with RMACT make you more sensitive when talking to folks in your personal life about their babies or lack thereof?
Yes, absolutely!!! I will never ask someone, "so when are you having a baby!!??"
About Lisa Rosenthal
Lisa has over thirty years of experience in the fertility field. After her personal infertility journey, she felt dissatisfied with the lack of comprehensive services available to support her. She was determined to help others undergoing fertility treatment. Lisa has been with RMACT for eleven years and serves as Patient Advocate and the Strategic Content Lead.
Lisa is the teacher and founder of Fertile Yoga, a program designed to support men and women on their quest for their families through gentle movement and meditation.
Lisa's true passion is supporting patients getting into treatment, being able to stay in treatment and staying whole and complete throughout the process. Lisa is also a Certified Grief Recovery Specialist, which is helpful in her work with fertility patients.
Her experience also includes working with RESOLVE: The National Infertility Association and The American Fertility Association (now Path2Parenthood), where she was Educational Coordinator, Conference Director and Assistant Executive Director.