Healthy Choices
When I was younger, I struggled with an eating disorder and my relationship with food and my body has been tumultuous over the course of my life. And adding infertility and fertility treatment didn't make it any simpler or easier!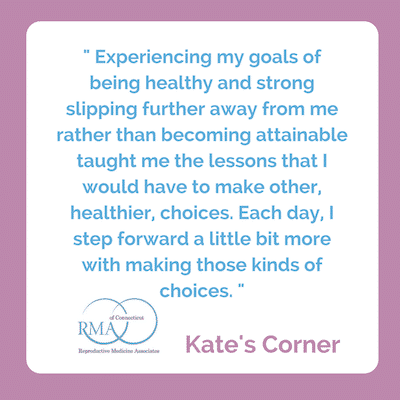 It's not that I don't get it—I understand the difference between healthy and unhealthy choices, whether it's what I'm eating or how I'm working out, just as you probably do. It's pretty simple—eat a balanced food plan and engage in consistent exercise. Add sleeping eight hours and the design for a healthy lifestyle is complete.
I tended to get so far ahead of myself with my desires and intentions that it paralyzed me or even set me spinning back to where I started. I wanted it all and I wanted it right now, whether it was weight loss or the number of steps I was walking or weights I was lifting. The slow, steady way of getting to my goals didn't provide the instantaneous results and relief I was looking for. I would try extreme measures to get to my goal quicker. I'd restrict all carbs, sign up for an 8-week intense boot camp exercise program, purchase diet pills or detox cleanses. Getting caught up with weight loss infomercials was yet another way I avoided what I knew to be the best answer. Not surprisingly, none of these methods worked and typically left me in worse shape than I was before I tried them. Does any of this sound familiar?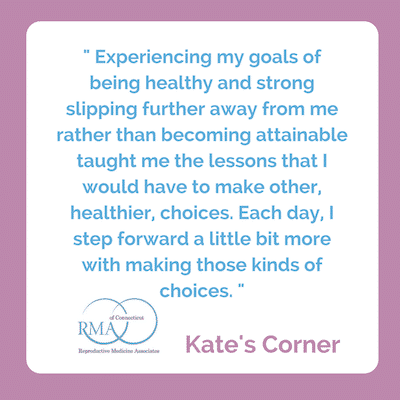 I've learned that this simply doesn't work. I've learned it by trying the hard way more times than I can even remember. Experiencing my goals of being healthy and strong slipping further away from me rather than becoming attainable taught me the lesson that I would need to make other choices.
Today, I walk. That is my only form of exercise. It is steady, attainable, and only requires me to put one foot in front of the other. No special gear is required, no gym membership fees. Even on my worst day, I can put one foot in front of the other. Putting one foot in front of the other is the perfect metaphor for other areas of my life too. I don't change my food drastically anymore. I make one meal change per week instead of getting so overwhelmed with what I would have to do to achieve pregnancy with my infertility diagnosis. I made a healthy choice: I scheduled a consultation with an RMACT doctor.
Each day, I step forward a little bit more with making healthy choices. I don't run. I don't leap. Because usually that makes me fall—sometimes flat on my face. I just take one step at a time. And one important way I know it's healthy? I really feel good doing it!
About Kate Doyle
As RMACT's New Patient Liaison, Kate Doyle is the first person who speaks with patients before they schedule their initial appointment. Kate recently started contributing to RMACT's blog, PathToFertility.com. In "Kate's Corner" she shares her perspective on topics that interest new patients. This glimpse into fertility treatment gives readers a candid knowledge and insightful tips. Kate started at RMACT as a Patient Navigator in January 2013, which is when she learned that she enjoyed guiding patients through the ups and downs of treatment. Her current position enables her to work with patients at the onset of treatment when they need help bringing their limited understanding of infertility into focus.