Calling All Allies – It's Time We Speak Up
Last week, Matt Boley, (the Project Coordinator on the Program Development team at Reproductive Medicine Associates of Connecticut (RMACT) and Gay Parents To Be Team Member) wrote a compelling call to action for our Gay Parents to Be blog. With some appropriate changes, here is his blog again.
The call to action is simple. Be an ally for all family building. All people who want to have a child should be allowed and encouraged to do so. We need more loving families. Period. Whether those families are headed by mommies, daddies or any other assortment of people, its love that makes a family. Not how many mommies and daddies there are. It's time to stop keeping count. What is needed is love, that's what counts. Let's stand behind that.
We support all family building. And Matt speaks so eloquently of his experience at the conference– we hope that it moves you the way that it moved the rest of us.
He convinced me.
I've always been an ally.
Thanks Matt for the reminder that being an ally and saying it are two different things. ~ Lisa Rosenthal #ImAnAlly
Calling All Allies – Support LGBT Family Building
Last week, we (our Gay Parents To Be Team from RMACT) attended the National LGBTQ Task Force's Creating Change Conference in Chicago. I wrote a conference recap on our Gay Parenting Voices blog, but I wanted to follow up with more of a call-to-action here. I'll do my best to summarize my thoughts, and expand upon a few key points.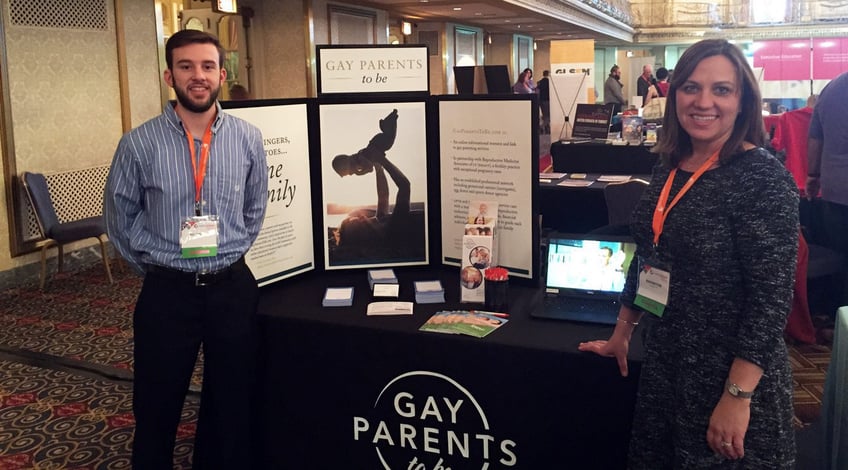 What is the National LGBTQ Task Force?
Founded in 1973, the Task Force is the country's oldest national LGBTQ advocacy group. Their cause is just and their mission is clear— to advance full freedom, justice and equality for LGBTQ people. This includes family building and reproductive health rights, which is partly why we took our Gay Parents To Be Team on the road to attend their conference.
Here is a little more background on our team. Dr. Mark Leondires created our Gay Parents To Be program to exist as an informational resource and link to gay parenting services. Our philosophy is to provide a supportive, compassionate, and encouraging environment for people undergoing this process. The end goal of having the family you always dreamed of is worth it, and we are genuinely committed to navigating this journey with you.
As I mentioned last week, attending their conference was an eye-opening experience for me. I had the opportunity to connect with others and watch both of our missions unfold in real time. I left with more knowledge and a greater admiration for this movement which centers on love and respect— two fundamental human rights and values. I left wondering what more I can be doing to push this movement forward.
How Can Allies Get Involved?
For me, it meant writing about my experiences and sharing it with others. I've realized this might not be the answer for everyone, but there are other ways to get involved. If you hear someone using derogatory or offensive language, help educate them and do your best to steer their words in a more positive direction. Help us harness the power of social media to spread the #ImAnAlly movement with a simple status update claiming your position.
The worst thing we can be is silent and think that it's enough that we feel supportive. Continue, or start, to come forward and share your perspective and experiences with others, whether in writing or in conversation. Be proud. Be courageous. Be heard. Be an ally.
The time is now. We are living in a generation where we have a real opportunity to reclaim social justice for everyone. The message at Sunday's Super Bowl Halftime show was a strong one— "Believe in Love." Love of all people. Love of all families, regardless of the compilation of parents and whether or not it is familiar to you. I challenge us all to take this message one step further— to honor each other with respect.
We are all human. While I take pride in working for such an open and accepting practice like RMACT, I truly believe that this should be the norm. The sad reality is that it's not. And that is why we need your help. We need to get everyone on board to make this happen.
#ImAnAlly – Are you?
If you are, I encourage you to spread the word and post it as your status.
About Matt Boley
Matt manages the Marketing Team at Reproductive Medicine Associates of Connecticut (RMACT) and Gay Parents To Be. He received his undergraduate degree in English from Fairfield University, and is currently pursuing an MBA in Marketing & Management from the University of Connecticut.