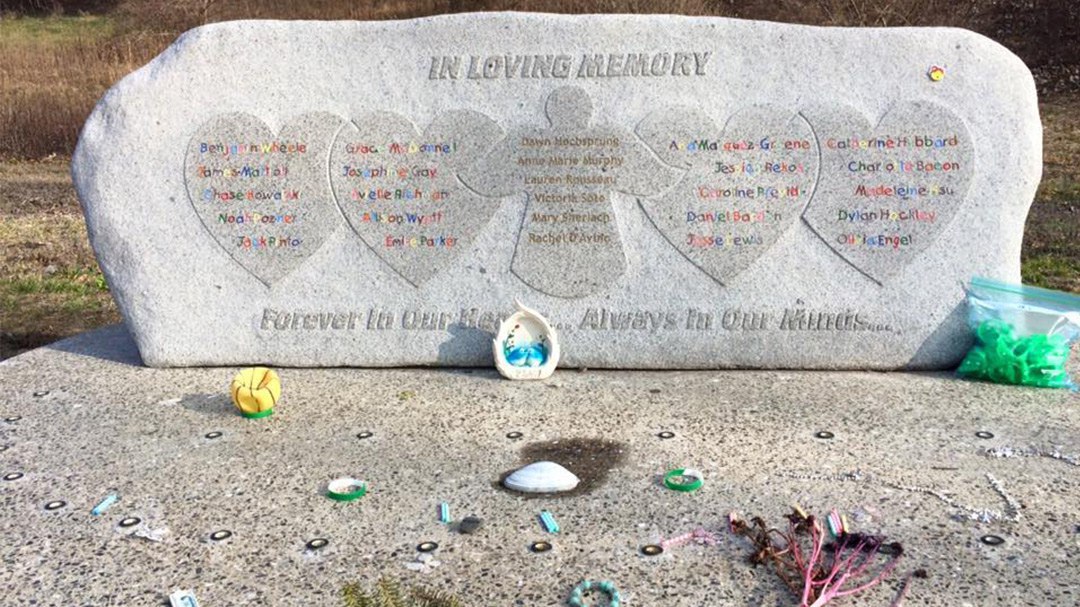 A Sandy Hook Story of Infertility, Pregnancy & Peace
Yesterday was the third anniversary of Newtown. 12.14.12.
I never know what to call it.
The shooting?
The massacre?
The mass murder?
The tragedy?
Maybe it doesn't make any difference what I call it. Or what you call it. Maybe we just haven't found the words to use that make any sense. I know I haven't.
On Saturday, my husband and I were in Newtown, in Sandy Hook, as we often are. As we walked around, I felt the tears gathering.
I texted someone who I hold very dear to me. And I told her how precious she is to me. My text explained how blessed I feel to know her, how lucky I am to have her in my life.
She is pregnant now. After infertility and fertility treatment.
She was very personally affected by Newtown. Not in the general way that all of us were. Not in the less general way that those of us who live close were.
Not in the intimately private way that those who lost a child or a family that day were.
She was affected because she was there. And she experienced the horror, first hand.
That is her story. She has given me permission to share this with you. It is her story though so I will not go into the details that she has shared with me because it's not my story.
She is pregnant. There will be a much beloved baby and child soon.
This is a blessing for us all. We have been blessed to know her and to help her and her husband.
That has been a gift for us.
She says that she is grateful for her infertility because she got to know all of us. I can't be selfish enough to say that I feel the same way because I got to know her through the sadness of infertility. I do feel grateful and thankful and blessed that she came into my life.
I speak for all of us at Reproductive Medicine Associates of Connecticut (RMACT) when I say this.
When I texted her on Saturday, she was so happy to hear that I was in "the hook". She told me, if I had time, that I should go to the angel rock behind one of the churches.
Of course we had time. And if we hadn't? We would have made time. Something I learned from Newtown, from this beloved person– I have the privilege of having time.
Bill and I walked hand in hand to angel rock. I bowed my head and prayed for the lives lost that day. For the families that were forever disrupted. For the nonredeemable devastation that had been perpetrated.
I said thank you for the strong, beautiful woman that I have gotten to know who sent me there.
I ended my prayer, the way that I always do, with "Shanti, peace".
I got a gift while I was there, of light and love. And I got a heart as well. A gift that was left on the bench. There are gifts all over Newtown.
We, at RMACT, have been thankful to have received a gift from Newtown in the guise of a beautiful woman who we love deeply.
A prayer that I end Fertile Yoga with:
Peace, shanti, peace, shanti, peace, shanti, peace
May all living beings in this room live in peace, shanti, peace
May all living beings in our community live in peace, shanti, peace
And may all living beings in the universe, live in peace, shanty, peace, shanti, peace.
About Lisa Rosenthal
Lisa has over thirty years of experience in the fertility field. After her personal infertility journey, she felt dissatisfied with the lack of comprehensive services available to support her. She was determined to help others undergoing fertility treatment. Lisa has been with RMACT for eleven years and serves as Patient Advocate and the Strategic Content Lead.
Lisa is the teacher and founder of Fertile Yoga, a program designed to support men and women on their quest for their families through gentle movement and meditation.
Lisa's true passion is supporting patients getting into treatment, being able to stay in treatment and staying whole and complete throughout the process. Lisa is also a Certified Grief Recovery Specialist, which is helpful in her work with fertility patients.
Her experience also includes working with RESOLVE: The National Infertility Association and The American Fertility Association (now Path2Parenthood), where she was Educational Coordinator, Conference Director and Assistant Executive Director.