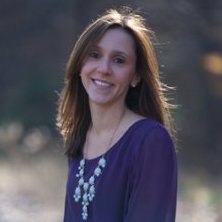 2018: A New Beginning
Happy New Year! 2018. Wow! How the heck did that happen?
When I was younger, I always wished the time away. I couldn't wait for this day or that party, usually making countdowns to these fun events and crossing each day off with a big red marker (red has always been my favorite color!). My parents would say to me, "Enjoy the here and now because one day, you'll want it to all slow down" and boy, oh boy, were they right.
Time flies and just like that, like a snap of your fingers or the blink of an eye, a new year begins.
And with the start of each new year, comes the promise of a brand-new beginning; it's like opening up a brand-new book and writing each chapter with the narrative of your hopes and dreams. YOU are the author. YOU are in charge. YOU can and will make things happen.
I, for one, love the new year. I use this time as a time of reflection; a time to re-focus on what is important in my life and what I hope to achieve for myself. I typically write down these hopes and dreams to keep myself accountable. To be able to physically see what it is I'm working towards helps to keep me in line. Now, I'm not going to lie to you- in years past, my list has gone on and on, and ultimately, I didn't achieve half of the new year's resolutions I put on that list. Probably because a lot of them were completely unrealistic. Join a gym? Ok, I did that, but the only time I ever stepped foot in that gym was the day I went to sign up. #TrueStory! So there went the next resolution on the list, right out the window: exercise more.
But this year will be different because I have decided to follow in RMACT's footsteps and make #OneSmallChange at a time. Why? Because small changes make a difference. Even when done with no faith, they can work. That's right, even when done kicking and screaming (figuratively or literally), a small change can affect absolutely everything, and often in ways that are not immediately apparent.
As fertility patients, there is a lot that is out of our control. We are at the mercy of our doctor's instructions, the medications we're taking and how our body responds. It feels like we have ZERO control in any of this and for a type A personality (guilty as charged), that is a tough pill to swallow. My ultimate new years resolution, probably like a lot of you, is to start a family with my husband. While that is a HUGE goal and kind of difficult to attain when/how I want to, I am instead going to focus on what I can control (so I don't drive myself more bananas than I already am). I'm going to reach my ultimate goal one (baby!) step at a time. I vow to myself that I will make dietary changes, including eating more small meals throughout the day. And those meals will contain more of the good stuff. I'm going to cut out caffeine and alcohol (boy, how I will miss that glass of wine!). I will also start to drink more water and exercise more. I know that, evenutally, these #SmallChanges will help Dan and I change our family building dreams into our reality.
I will continue to make small changes throughout the year, and I encourage you to do the same, because the ultimate goal that I know we all hope to achieve this year, is going to make it all worth it. And when it all seems too much, please remember this sentiment I have for all of you:
I hope that in this year to come, you make mistakes. Because if you are making mistakes, then you are making new things, trying new things, learning, living, pushing yourself, changing yourself, changing your world. You're doing things you've never done before, and more importantly, you're doing something. ~Neil Gaiman
About Justine Houle- "Where's the F%&$#!ing Stork?!"
Justine Houle loves a great pair of shoes, and her boys Dan (husband) and Ralph (a very handsome pup hailing from Tennessee which must be where he gets his southern charm). She began her career in childcare and then joined the RMA of CT team in 2011 as a Patient Coordinator. She's served several roles in the organization since then but most recently as the Marketing Operations Coordinator. She is well known for her impeccable style - and recently became an independent stylist for Stella and Dot. On the weekends, she can be found tooling around with her boys in Fairfield, CT where she grew up and currently resides.