Nurse Practitioner, Monica Moore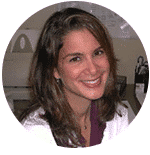 As a nurse practitioner, Monica received advanced nursing education in addition to being a registered nurse. She is a fully licensed registered nurse and Advanced Practice Nurse Practitioner in the state of Connecticut and is certified by the board of the American Academy of Nurse Practitioners. Monica's nursing work experience spans nearly two decades in the field of fertility treatment. Prior to joining RMACT , Monica was the donor nurse coordinator at the Atlanta Center for Reproductive Medicine. Monica's first job in reproductive endocrinology was at the Cornell Center for Reproductive Medicine and Infertility over 12 years ago.
Monica's passion lies in taking care of the whole patient. Monica works with patients and stresses the importance of integrating comprehensive care – including yoga, acupuncture, massage therapy and nutrition – with fertility treatment. Body mass index (BMI), the mind-body connection and stress release are important parts of the fertility equation.
Monica was awarded "Nurse of the Month" in 2010 by FertilityAuthority.com, a trusted source for fertility information. Her research interests include: polycystic ovarian syndrome (PCOS), improving the efficiency of donor oocyte programs, advancing education for nurse managers, and developing patient teaching techniques. Monica enjoys any opportunity for teaching nurses or other staff members. She has published abstracts, online articles and a book chapter. She chaired the ASRM Nursing course in 2007 and was a recipient of the IVP Care's Professional Patient Education Grant in 2004. She is one of the founding members of the Advanced Nursing Network, a committee of the nursing practice group (NPG), whose purpose is to establish a national network of nurses in managerial or midlevel positions.
Monica received her undergraduate and graduate degrees from the University of Pennsylvania, where she was a member of Sigma Theta Tau, the nursing honor society.