Why Fertility Testing On Cycle Day 21 is Vital
Day 21 of your menstrual cycle is an important day in a fertility clinic because fertility testing will determine if ovulation has occurred.
If you are seeing a fertility specialist (board certified Reproductive Endocrinologist) because of suspected infertility problem, (inability to get or stay pregnant after being exposed to sperm for six to twelve months) the likelihood is high that you will be checked on the twenty-first day of your cycle. Counting from the first day of your cycle, when you begin your menstrual flow, on day twenty one, the levels of progesterone and estradiol (E2) in your system and the thickness of your endometrium (uterine lining) will be checked via blood tests and an ultrasound.
Cycle Day 21 Progesterone Level & Ovulation Tests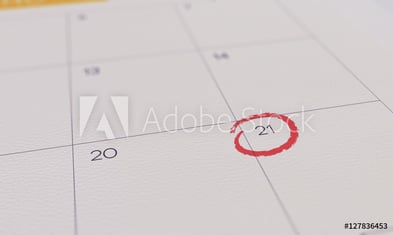 Day 21 testing checks a woman's progesterone level to confirm that ovulation has occurred. A low Day 21 progesterone level suggests the cycle you are in currently was anovulatory (no egg was produced). When no egg is produced, pregnancy cannot be achieved that month.
In an average cycle of 28 days, which is typical for women, the time between ovulation and the next period is about two weeks, so progesterone is measured about seven days before the expected period, or on Day 21. Not every woman's cycle is precisely 28 days (cycles that are between twenty one and about thirty eight days are within the accepted range). With a longer or a shorter cycle, day twenty one testing will be adjusted accordingly. For example, a woman with a 35-day cycle would be tested for progesterone on Day 28.
Serial estradiol (E2) levels are often measured, via a blood test as part of the diagnostic tools in establishing ovulation and the support of the cycle after ovulation.
An ultrasound exam is also used to measure your uterine lining to determine if it is thick enough for a fertilized egg to implant.
What To Do If You're Not Ovulating
If you are not ovulating, there are many different options that can be taken to help you, including fertility medications to help release eggs. Also, because you are not ovulating on the month that you are tested does not mean that you are not ovulating other months. In any fertility treatment cycle, you will be closely monitored to see if ovulation is likely to occur. Many treatment cycle protocols will control and enhance your body's ability to produce eggs.
Your fertility specialist will discuss all these options with you when you speak with them to discuss your options for treatment. Expect that you will have questions and write them down before you sit down for your consultation. Before your consultation ends, make sure that you have your answers.
About Lisa Rosenthal
Lisa has over thirty years of experience in the fertility field. After her personal infertility journey, she felt dissatisfied with the lack of comprehensive services available to support her. She was determined to help others undergoing fertility treatment. Lisa has been with RMACT for eleven years and serves as Patient Advocate and the Strategic Content Lead.
Lisa is the teacher and founder of Fertile Yoga, a program designed to support men and women on their quest for their families through gentle movement and meditation.
Lisa's true passion is supporting patients getting into treatment, being able to stay in treatment and staying whole and complete throughout the process. Lisa is also a Certified Grief Recovery Specialist, which is helpful in her work with fertility patients.
Her experience also includes working with RESOLVE: The National Infertility Association and The American Fertility Association (now Path2Parenthood), where she was Educational Coordinator, Conference Director and Assistant Executive Director.