Top CT Fertility Center Uses a Powerful New Tool to Help Select Fertility Treatment Options
Indecision can be paralyzing, especially when the choice you make is so weighty and likely to change the course of your life.
I've encountered patients that become so overwhelmed by their fertility treatment option protocols that they end up getting lost along the way which can end up stalling their treatment completely.
Top CT Fertility Center Uses Tool To Improve Fertility Care
Reproductive Medicine Associates of Connecticut (RMACT) understands the confusion and uncertainty that patients often experience which is why our fertility doctors now utilize the Polaris Treatment Navigator. This powerful tool generates reports based on your diagnostics results so that you and your doctor can better visualize, understand and discuss your treatment options. Leveraging the world's largest data set on fertility, Polaris assesses your clinical metrics and medical history to provide important insights that are unique to you. Using data and cutting edge technology is one of the many ways our board certified Reproductive Endocrinologists are providing comprehensive and customized fertility care.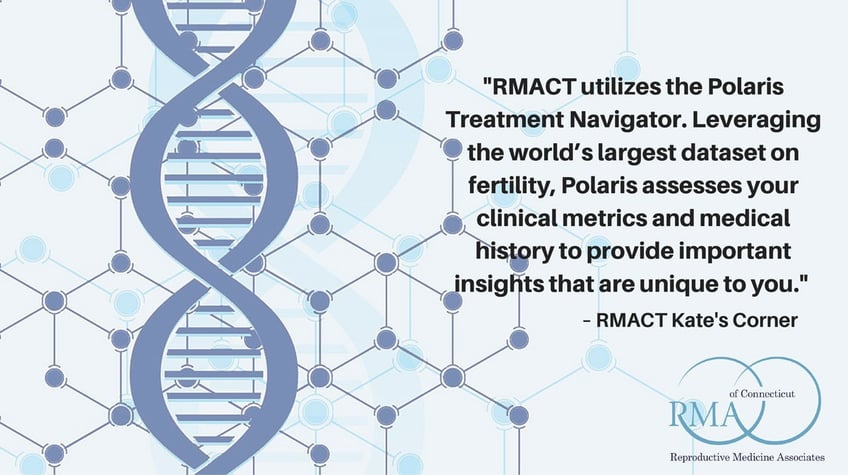 I don't always know what the right decisions are for me, but I certainly can see what the wrong ones are. And if I keep my back to the options that are wrong, I can feel confident that I am headed in the right direction. Sometimes making tough decisions is as simple as taking guidance from trusted individuals and professionals and putting one foot in front of the other. RMACT will be there for you no matter what crossroads you find yourself facing on your fertility journey.
About Kate Doyle
As RMACT's New Patient Liaison, Kate Doyle is the first person who speaks with patients before they schedule their initial appointment. Kate recently started contributing to RMACT's blog, PathToFertility.com. In "Kate's Corner" she shares her perspective on topics that interest new patients. This glimpse into fertility treatment gives readers a candid knowledge and insightful tips. Kate started at RMACT as a Patient Navigator in January 2013, which is when she learned that she enjoyed guiding patients through the ups and downs of treatment. Her current position enables her to work with patients at the onset of treatment when they need help bringing their limited understanding of infertility into focus.