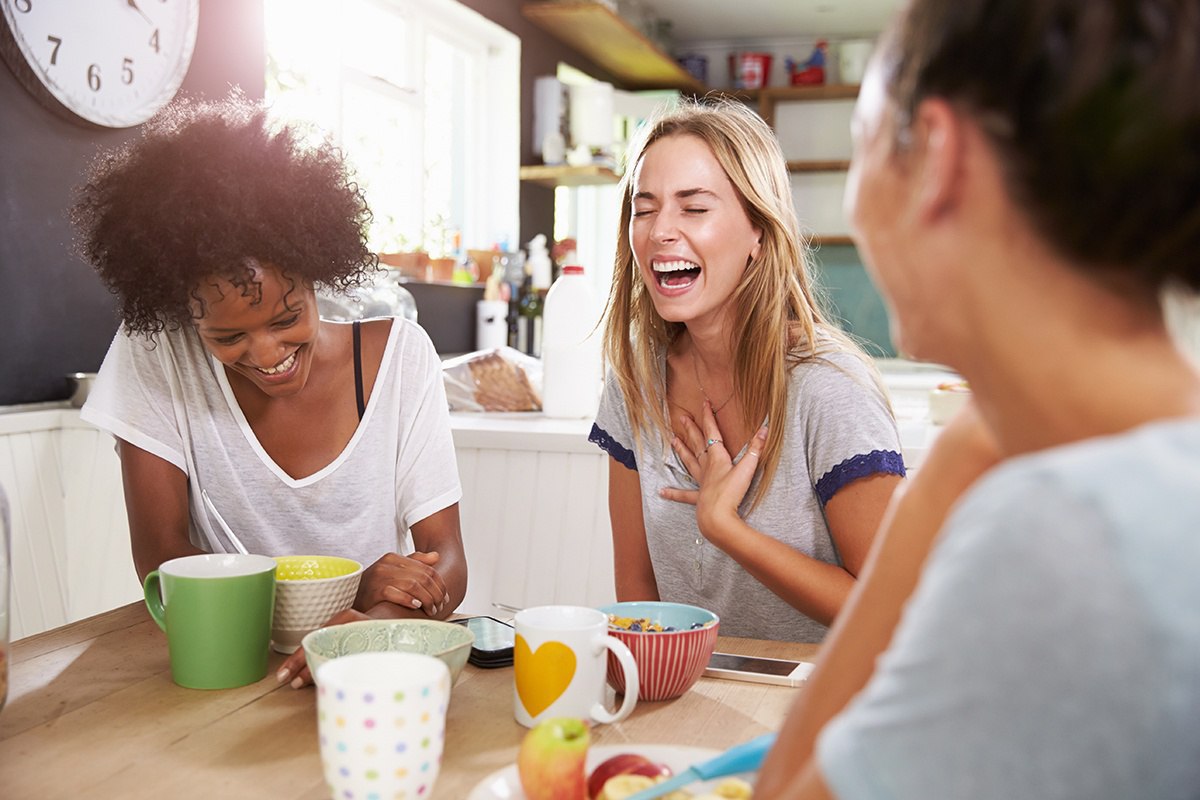 RMACT Book Club: "Laughing Is Conceivable"
RMACT launched its very own Bookclub on GoodReads in August. We started off with funny- because there are some very laughable moments that occur with infertility. Really. There are. Don't believe it? Read some of the comments that were made during our conversation on Laughter IS Conceivable: One Woman's Extremely Funny Peek into the Extremely Unfunny World of Infertility by Lori Shandle-Fox.
Infertility is the opposite of funny- how could it actually get any less funny?
A little bit about Lori to start us off: Lori Shandle-Fox is a former stand-up comic, a current humor writer, & an IUI/IVF/FET survivor. Her essays, articles etc. have appeared in the Washington Post, Newsday and The Philadelphia Inquirer and on NPR and GrokNation.com. 
Excerpts below!
J.L.: "I loved this book! I could really relate to so much of what Lori writes about, and I think my sense of humor has definitely helped me stay sane on this journey!"
Lisa Rosenthal (L.R.): "Thanks J. L... having a good laugh is the best revenge- especially for the unintioned but still unhelpful remarks made by our loved ones! "
W. K.: "Hi everyone! Lisa I am so glad you invited me to read this book... I started it this afternoon.. my first reaction was that maybe I don't have a good sense of humor b/c I couldn't think of much in the way that has been funny... but it's just such a good reminder that this is exactly how your perspective means EVERYTHING in a situation like this! And looking back I guess there are a lot of things I can find humorous now that weren't funny in the moment (as long as the moment isn't right now!)"
Lori Shandle Fox (LSF): "I know this sounds weird, but I don't necessarily find infertility funny... ("Nice talkin' to you Lori... Have a good night") Really, it's not that I'm a total nut job & think pain & suffering are hilarious... it's just that laughing to me is the most natural way to react to a horrific situation that you're stuck in."
W. K.: "I totally agree Lori- humor can change a situation so much- it hasn't been so natural to me in the moments, but I am realizing now there is nothing you can do but laugh... it makes such a big difference! "
L.R.: "Lori's right- don't listen to me- read the book. 
ESPECIALLY if you find nothing funny about infertility. Me, my sense of humor ran away when I couldn't conceive. I didn't find much funny.  Infertile and a sourpuss. Winning combination! "
*Stupid Sh*t People Say*
A.S.: "One thing that other people find funny, I know they are trying to make me feel better, but that infuriates me, is when they say "well, at least you're having fun trying, right?" UM, NO, that is not..."
L.R. to A.S.: "That's under the category of "dumb things people say when you're dealing with infertility". They don't know what to say so they say that... Helpful isn't it? NOT."
LSF to A.S: "And sex is so much fun when in your head, instead of images of Brad Pitt as usual, you have a vision of people standing around your bed in white lab coats looking at their watches & yelling: "Now!! You have to do it now"
R. M.: "How about when your friends offered their children up? I actually did find that funny, especially the ones with two year old's who did nothing but scream."
A.S.: "This is one of the hardest parts- the stupid sh*t everyone else says!!! "
LSF: "Yes, I mention my husband quite a bit in the book. I think I used the phrase: "Hate his face" like 6 times. They mean well. Sometimes that makes them even more irritating."
T. O.: "Hate his face, hmmm.... Did you ever offer to divorce him so that he could marry someone else and have children?  My husband managed to keep a straight face when I said that to him. "
L.S.F. to T. O.: "Offer to divorce him and take away the thrill he had every night of jabbing me in the butt with a long, long, needle?"
A.R.- L.O.L.: "I "punished" my husband one night. I was so mad at him that I wouldn't let him give me the injection. Perganol needles really were SIX inches long. OUCH.  The visual of me twisting around to get to "upper, outer, quadrant."
Oy 
L.S.F.: "I still have no idea what my upper outer quadrant is or does. I could swear it's what I've been doing Pilates for 2 years to get rid of. "
A.S.: "Especially when the well meaning stupid shit is from our partners?"
*Fun Fertility Situations*
A.S.: "The day of my first IUI was a few days before we moved last summer from Brooklyn to Stamford... and as we were leaving and I received the instructions, including "no heavy lifting"... I didn't know whether to laugh or cry. WE WERE MOVING IN 3 DAYS!!! and i had no idea (this was of course pre-RMACT). "
A.S.: "Oh any box of medications is a crazy scary, overwhelming situation!!! There was one day I literally was chasing the FedEx guy around Stamford for my next med delivery (after a few days of delivery problems... this was my last shot)."
L.S.F. to A.S.: "Now, can't you imagine the visualization of you chasing the UPS or FED ex guy around? Possible caption- "I NEED MY DRUGS!!!!" 
A.S.: "I freaked out about everything not being there in time. The nurse wasn't going to call me in time to give me instructions (always did)... one time I got home and found I had no needles with my meds. The girl from the pharmacy got on the subway and brought them to me. Bless her heart as they say here in the South."
L.S.F. to M.P.: "That's about the time you flash your messages on your phone to your husband... (Couch) "Sorry... no heavy lifting...." (Computer) "Sorry, no heavy lifting" Of course by the 10th trip onto the driveway, you'd have to be more forceful. "Read the message! I said 'read the fkn message!!!!" 
A.S.: "Yep, and I think my coworkers thought I was so annoying for being so fixated on a single delivery box probably wondering why I was having personal stuff delivered to work in the first place, haha! "
L.R.: "So true... Never mind a woman scorned... Hell hath no fury like a hormoned-up, emotionally rickety infertile woman waiting for her next fix."
L.S.F.: "Tell them it's porno. That'll shut 'em up... or you'll find a whole new crew of friends... either."
F.M.: "Sharing a funny moment driving to my RE with fresh warm sample cup placed in a brown paper lunch bag in between my legs racing to the doctor hoping not to get pulled over. I would have to be truthful if I got pulled over :) "
*Injection Playlist Songs*
L.R.: "What music do you listen to that inspires you? Playlist for injections- GO! "
A.S.: "I Will Survive"
L.S.F.: "Wait to go Miss Gaynor"
L.R.: "From our Ladies Night In Online Facebook group- here is one playlist suggestion: Push it, push it real good!"
L.S.F.: "At first, I was petrified".... perfectly describes my first injection!  I think the whole shot thing is ridiculous... The nurse rambled off how to do it, & just went into a daze. I kept asking her: "What? What are you talking about? Just like I wrote it is what I said to her:: "I didn't go to medical school. My degree's in Spanish." 
From the Ladies Night In FB page: "This is my fight song...take back my life song ."
L.R.: "Start Me Up- Rolling Stones"
L.R.: "One last song for the injection playlist, from Ladies Night In Online- "Ain't No Mountain High Enough."
*Tidbits*
L.R.: "Lori, did you ever laugh so hard you cried?"
L.S.F. to L.R.: "I know I'll sound like a big jerko.. but I hate crying... If the reviews for a movie are: "heartwarming, poignant".... not going."
D. H.: "Jokes about anesthesia would be funny in that context... my husband took a picture of me enjoying my mild "high" waking up from my (unsuccessful) retrieval in February b/c I was enjoying it a little too much. :) "
Diana D'Amelio, PA at RMACT: "As a provider, I have given many Perganol injections with the big needles. At least we don't have to do that anymore. However, our patient's eyes are just as wide when they receive the huge box full of medication and needles!"
L.R. to Diana: "Welcome!! Oh, my gosh, I had to do those perganol shots, those needles really were six inches long. "Upper, outer quadrant". I believe on my death bed I will still remember that direction. "
*Spencer Richlin, MD Adds His Thoughts*
Spencer Richlin, MD: "This is Dr. Richlin, I loved your book"
L.S.F. to Spencer Richlin, MD: "Yipppppeeee, you're here!"  Seriously... thanks a lot for joining us. It says a lot about your commitment to patients. I don't know why I'm kissing up. I'm not your patient... and you've already read my book apparently. 
L.R.: "Spencer, what hit your funny bone?"
Spencer Richlin, MD: "It made me laugh, definitely. But it also made me think about our patient's experience in a new way. I have a newfound respect for all of our patients, how hard they work for a great goal. And that they try to keep a sense of humor."
L.S.F. to Spencer Richlin, MD: "Thank you so much! I hope don't mind me saying... You're amazing Dr. Richlin and I don't even know you. I really appreciate it. (Don't tell him I'm asking you, but did I say anything horrible about doctors? I'm freezing up. I can't think. Did I? Did I?!)"
L.R.: "It's possible Lori. That's ok, you weren't talking about OUR doctors. Obviously. ;) "
L.R.: "We agree, Lori, Spencer is everything you want a board certified Reproductive Endocrinologist to be- an excellent doctor and a real mensch.."
Spencer Richlin, MD: "Thank you I am always learning."
L.S.F.: "I am so impressed that you are hanging out with patients. My doctors used to hide when I came into the office. Come to think of it so did the receptionist... maybe it was me."
A.S.: "I agree- Dr. Richlin, it means a lot to me as an RMACT patient that you are here. I only met you once- at the letter writing campaign this spring- and I happened to be a complete emotional mess that day! The involvement of all the RMA staff is amazing. And the fact that we can joke about things together makes it even better! "
*Fertility Program Redecorating Ideas- Diana's on FIRE*
Spencer Richlin, MD: "It made me think about our patient's experience in a new way. How can we bring a smile to our patients when they're in our offices? "
Diana D'Amelio, PA: "So maybe we lighten the mood in some way? Some jokes on the ceiling of the surgical suite perhaps?"
L.S.F.: "Or you can put mirrors on the ceiling instead. If we all got a good view of ourselves... okay, patients might laugh... but I could see how it could backfire too." 
Diana D'Amelio, PA: "Hey Lisa, I have a few things at home I can bring in. I have a shirt that says "got sperm" and a sperm that laughs when you press it's belly! Of course, we all have pens at work with the sperm floating in the fluid too! "
F. M.: "It's all about the socks. I planned my funky socks out when I had an appointment. It kept me relaxed weirdly. You should hand out sperm and egg socks on transfer days. "
Diana D'Amelio, PA: "This makes me think...I wonder if we could "inject" more humor into the process, maybe show a funny video at teach class with people chasing after fed ex and opening their boxes of meds and putting on music getting ready to inject. Maybe that would be too much too soon! Not everyone has a sense of humor. I could picture it though!!!!! "
A.S.: "Or Lisa, maybe there can be copies of Lori's book in the waiting room for people to look at! (Or maybe even a little lending library of related literature). I think there can be lots of ways to remind people to laugh through the shitty times."
L.R.: "We know that infertility is serious. But there's nothing like a sperm with a smile on it to take it to another level.  What do you think Diana?"
Diana D'Amelio, PA: "OK and here's one more idea...a sperm and egg mobile overhead!!!"
*Getting Real!*
Lisa Rosenthal: "Lori, were you out about your infertility from day 1?"
L.S.F.: "To tell you the truth, I'm STILL not "out" to everybody. If I know you're interested for the right reasons, great. But if you're just being a BFY (Big Fat Yenta), I don't think it's anybody's business."
Lori Shandle Fox: "Patients more than anyone I think understand that it's not that we're making jokes... ha ha... needles... ha ha blocked tubes... ha ha low sperm count... it's survival... It's a way to cope. I always tell people that if infertility went on for a week, we could all suck it up and freak out for the week... panic attacking our way thru that lousy 7 days... but when it lasts for months and months and years or even decades.. .you've got to figure out a constructive way to handle it and make it less unbearable so you can still try to live your life and put it in its proper place." 
*Wrapping it up!*
Dina wrote: "Lori, I'm curious what made you want to write this book?"
Lisa Shandle Fox: "Dina, I really started writing the book because my head was so overwhelmed. Everything was turned upside down so quickly & most of it seemed so bizarre. I kind of wrote it down in a feeble attempt to make sense of it all. "
Lisa P. Rosenthal: "Thank you to everyone for joining us here this evening. Lori, you rock! Great book, great conversation. Thank you so much for being here. This discussion board will stay live so please feel free to continue the conversation now or in the future. "