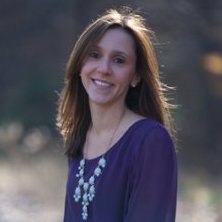 Eye Am Strong
I've never considered myself a strong person.
Quite the opposite actually.

Both physically and emotionally - my small stature (and the fact that I can't really lift more than 8 lbs. when I "work out"!), plus a lack of confidence in myself and my tendency to express my emotions easily - well, those things always made me feel pretty weak, a word I truly identify with.
Strong? Nope, never!
And it's funny because going through fertility treatment, specifically the IVF process, many people have told me how strong I am and, while I appreciate their kind words, my response? Well, it's typically a polite smile and a quiet thank you, because deep down, I haven't felt the strength they're describing. The fertility treatment cycles that I'm undergoing aren't an act of strength, they're just what I need to do to create our family.
But, maybe I'm wrong.
Maybe I am a little stronger than I give myself credit for? Maybe all of us women (and men!) going through this are a lot stronger than we think, despite not feeling it? It's the (not-so-easy) actions that we are taking that display strength (and even courage!), not the feelings of strength or lack of them.
3 Not-So-Easy Tasks
Going into the doctor's office every other day, typically before our work day even begins, for blood work and an ultrasound.
Getting injections - not easy whether you give them to yourself or your partner administers them - every day for about 10 days.
Dealing with the aftermath of the medication. The hot flashes and the emotional highs and lows, to name a few.
Throughout this process I've learned that we all have strengths, whether we believe it or not.
And this process really puts us under a microscope, taking the closest look into who we are capable of being - exposing strengths we never realized were there.
Take for example, Dan, my better half. Before fertility treatment ever began, Dan was one of the strongest men I've ever known (next to my Dad, of course!). And in this situation, well, he became my superhero.
Injection Time
Dan has always had a phobia of needles. As a kid, he'd have to be held down at the doctor's office when he needed a shot or blood work drawn, so going into IVF, I knew that he might not be able to give me my injections, which scared me because I didn't think I'd be able to give them to myself either! (Remember how I shared with you that I've been known to faint here and there after something medical? I was petrified that was going to happen every time if I had to give myself the injection.) We both surprised ourselves! Let me explain…
And then there are the needles
The night of my first injection, one of my best friends, who also happens to be a nurse, was so lovely and offered to come to our house, (a Friday night no less) in case we needed her to help us administer the injection.
But guess what?
With both her and Dan's support and their physical presence, it was all I needed. I was able to give myself the injection, even though I did feel a little faint-y afterwards. Nonetheless, I did it and in that moment, I was SO proud of myself. I felt strength coursing through me for the first time in my life!
As for Dan? Well, as the dosage of the injections increased, it became difficult for me to administer the injections myself. I really needed Dan's help (and by help, I mean I needed him to administer the shot) and he didn't hesitate for a second. He became my superhero - strength and courage all wrapped in one - and gave me my shot and I was SO proud of him! Of course, he felt horrible- he didn't want to cause me pain. And while he knew the medication and shot were necessary, he also thought by giving me the injection that's exactly what he was doing- giving me pain. But really, it was the opposite of pain- it was a sign of his love for me and our future family. I saw and felt his strength more clearly than ever when he gave me these injections.
I fell more in love with him in that moment, watching him overcome his fears.
The Takeaway
So, the moral of this story? It's a great one: whether we believe it or not or whether we know it or not- we are strong. And we are capable.
We are fertility warriors (to quote my favorite patient advocate!) and we must give ourselves credit where credit is due, especially when we end up surprising ourselves.
As for me? Well, I'm going to follow my own mantra and going into my egg retrieval, I truly believe "Eye Am Strong."
About Justine Houle- "Where's the F%&$#!ing Stork?!"
Justine Houle loves a great pair of shoes, and her boys Dan (husband) and Ralph (a very handsome pup hailing from Tennessee which must be where he gets his southern charm). She began her career in childcare and then joined the RMA of CT team in 2011 as a Patient Coordinator. She's served several roles in the organization since then but most recently as the Marketing Operations Coordinator. She is well known for her impeccable style - and recently became an independent stylist for Stella and Dot. On the weekends, she can be found tooling around with her boys in Fairfield, CT where she grew up and currently resides.