Infertility - Trick or Treat?
Holidays | fertility journey | Support | Events | Fall
Fertility Events - Reminders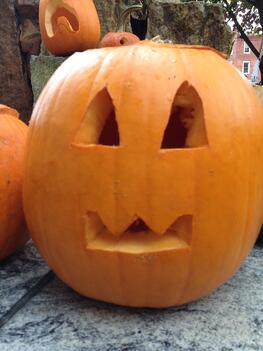 SingleMomstoBe Event this Sunday, a social gathering and educational event for Single Women Pursuing Parenthood (or seriously considering it), featuring RMACT's Surgical Director, Dr. Spencer Richlin and Lisa Schuman, LCSW (RMACT's Director of Mental Health Services).
Also this Sunday, discover your options this upcoming weekend at the 10th Annual NY Men Having Babies 2014 Surrogacy Seminar & Gay Parenting Expo. RMACT's Medical Director, Dr. Mark Leondires will be attending, along with some of our GayParentstoBe team members. You can schedule a private consultation with Dr. Leondires.
One more minor housekeeping item - NO FERTILE YOGA TONIGHT IN BETHEL. Please check RMACT's calendar of events for the next several weeks for Fertile Yoga as some classes will not be meeting.
Onto the blog for today, here at PathtoFertility.
Halloween and Infertility - Trick or Treat?
It's Friday.
It's Halloween.
Traditionally a child-based holiday that involves tricks and treats.
There's the kicker of infertility, fertility treatment and trying to conceive.
There's sweetness in trying to have a baby. Anticipatory feelings of delight in seeing the line on the pregnancy test turn the right color, realizing that you are on your way to expanding your family, knowing the reaction of when you announce the news to your friends and family.
Maybe this is a moment you've waited for since you were very little or maybe it's been a relatively new realization that you would like to become a parent. Either way, there is often giddiness, excitement and a touch or more of apprehension about the dramatic changes that will occur in your life.
But you're ready. You want it. You arrange your life to accommodate this new, important life phase.
That's the treat. When it happens easily, it's a treat. You float on cloud nine. Or you're sick as a dog. Either way, you are on your way.
And here's the trick. Sometimes it does not work that way. Sometimes the anticipation turns scary, not even wanting to hope, for fear that the disappointment of not becoming pregnant, AGAIN, will flood your senses and emotions. Will devastate you, at least briefly.
I've been experiencing a lot of treats and lot of tricks lately through the women that I get to know through Ladies Night In and Fertile Yoga. Through many of you, through this blog.
Many successful pregnancies and babies. Absolutely heartwarming and affirming to see pictures, get to visit and see families blooming. I can't tell you how much it means to each of us here at RMACT to get the pictures of your babies when they are born and to be updated. We love it. I love it.
Tricks again though, are so very painful. There really needs to be a new word for infertility, pregnancy loss pain and ending fertility treatment. Painful just doesn't cover it. While we are not personally experiencing it, we do feel it. We feel your pain. Your loss.
We grieve with you.
The trick of having the struggle of infertility, making the decision to seek help, go through fertility testing and treatment and not having it work is, as I said, beyond words. Some of us accept it as part of our lives and are able to treat it one day at a time, without being pulled into the tidal waves.
Sometimes, it's just too much. Just one crushing disappointment too many.
How many people out there stop fertility treatment even if there is a possibility of being successful the next time? Through sheer exhaustion, physically, emotionally and even financially, there are those that say, "enough is enough".
Is there a treat at the door closing and another opening? Is it donor egg/sperm? Is it surrogacy? Is it fostering a child? Adoption? Is it choosing childfree living?
Is there a treat simply for making a decision, even if it's one that you in no way, ever wanted to make? Is that even a decision or just simply something you were forced into, had no choice at all about.
Today, whether you are enjoying the treats of fertility treatment or grieving the tricks, we are here for you. We care.
I care.
Please let us know how you are doing. We're going to explore all those questions that I've asked, together. You are not alone in this. That, I promise. That, I can guarantee. That is one treat upon which you can depend.
Follow Lisa on Google+
About Lisa Rosenthal
Lisa has over thirty years of experience in the fertility field. After her personal infertility journey, she felt dissatisfied with the lack of comprehensive services available to support her. She was determined to help others undergoing fertility treatment. Lisa has been with RMACT for eleven years and serves as Patient Advocate and the Strategic Content Lead.
Lisa is the teacher and founder of Fertile Yoga, a program designed to support men and women on their quest for their families through gentle movement and meditation.
Lisa's true passion is supporting patients getting into treatment, being able to stay in treatment and staying whole and complete throughout the process. Lisa is also a Certified Grief Recovery Specialist, which is helpful in her work with fertility patients.
Her experience also includes working with RESOLVE: The National Infertility Association and The American Fertility Association (now Path2Parenthood), where she was Educational Coordinator, Conference Director and Assistant Executive Director.