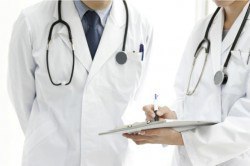 Infertility Testing On Medical Monday - Hysterosalpinogram Explained
Infertility Testing - What is a HSG?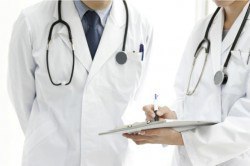 Medical Monday. A look at infertility testing. What do you need to know if you are scheduled for a HSG?
First of all, what is a HSG?
HSG stands for Hysterosalpingogram. It's a procedure that is used in almost every board certified reproductive endocrinologists' program. A HSG or hysterosalpingogram establishes the viability of your fallopian tubes. Without knowing whether your fallopian tube or tubes can carry an egg from the ovary to the uterus, you would be doing fertility treatment without any real knowledge that it could work.
Kind of like wandering around in the dark. There's a lot you can miss. The HSG is a basic test to make sure that any fertility treatment you undergo will be effective.
No need to wander around in the dark when there's a light switch right next to your hand.
No need to undergo fertility treatment without knowing whether it can work either.
Below is the information that Reproductive Medicne Associates of Connecticut (RMACT) shares on our website. It explains HSG simply, yet comprehensively.
As always, please let me know if you have any questions. I'll be glad to help you find the answers.
Hysterosalpingography (HSG)

Explained

Hysterosalpingography, or HSG for short, is an X-ray procedure used to evaluate the status of a woman's fallopian tubes, the two structures that carry eggs from the ovaries to the uterus. It is also used to make sure that the uterine cavity has a normal shape and size and to identify uterine malformations, adhesions, polyps or fibroids. These types of problems may cause painful menstrual periods or repeated miscarriages.

The HSG procedure, which lasts five to ten minutes, is performed in a radiology facility separate from the clinic. It is scheduled during Days 7 to 10 of a woman's menstrual cycle (Day 1 is the first day of bleeding), in the window of time between the end of the period and ovulation. Because some menstrual-like cramping is to be expected from an HSG, patients are advised to take 600 mg of Advil an hour prior to the test to help relax the uterus.

At the time of your HSG, your cervix will be cleaned and a thin, soft catheter will be threaded through the vagina and into the uterine cavity. Contrast dye will be connected to the catheter. Using a machine placed over your abdomen, a radiologist will inject a dye into your uterine cavity and through your fallopian tubes.

The HSG is a very accurate test to document tubal patency. Occasionally the dye used during the procedure pushes through and opens a blocked tube. In other patients, dye does not spill through the fallopian tubes at all. If your tubes are blocked, or if you have a uterine polyp or fibroid, your RMACT physician will review your hysterosalpingogram findings and future treatment with you.

If you experience pain or fever after your HSG, please notify your nurse or physician. Contact us for more information about Hysterosalpingography (HSG).

Follow Lisa on Google+
About Lisa Rosenthal
Lisa has over thirty years of experience in the fertility field. After her personal infertility journey, she felt dissatisfied with the lack of comprehensive services available to support her. She was determined to help others undergoing fertility treatment. Lisa has been with RMACT for eleven years and serves as Patient Advocate and the Strategic Content Lead.
Lisa is the teacher and founder of Fertile Yoga, a program designed to support men and women on their quest for their families through gentle movement and meditation.
Lisa's true passion is supporting patients getting into treatment, being able to stay in treatment and staying whole and complete throughout the process. Lisa is also a Certified Grief Recovery Specialist, which is helpful in her work with fertility patients.
Her experience also includes working with RESOLVE: The National Infertility Association and The American Fertility Association (now Path2Parenthood), where she was Educational Coordinator, Conference Director and Assistant Executive Director.