Supreme Court Decision On Birth Control Affects Fertility Treatment
Health | Women's Reproductive Rights | Abortion | Fertility Treatment
Fertility Treatment and the Supreme Court Decision On Birth Control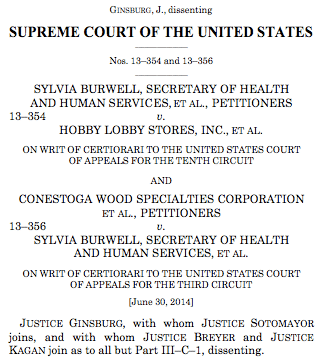 The birth control debate rages on. Despite a ruling from the Supreme Court, the conversation has been turned onto high, not turned off.
It matters, whether you are trying to prevent a pregnancy or whether you are in fertility treatment. Any of us who have been or are currently trying to conceive know this. How many of you out there reading this has been on a course of birth control while at a board certified reproductive endocrinologists' (fertility specialist) program?
Here's what Fertility Within Reach had to say on their Facebook page, "The U.S. Supreme Court rules some employers don't have to cover birth control. This is a HUGE blow to those needing treatment for endometriosis and other reproductive health issues. If this court decision hurts you or someone you know, please communicate how. They have a contact us section on their website. It's meant for us to use."

Supreme Court of the United States of America | General Contact Information:

U.S. Mail: Supreme Court of the United States 1 First Street, NE Washington, DC 20543

Telephone: 202-479-3000 TTY: 202-479-3472 (Available M-F 9 a.m. to 5 p.m. eastern)

Web: http://www.supremecourt.gov/contactus.aspx
Other professionals in the field have spoken privately on their personal FB pages. I have no doubt that public comments are on their way. I'm still waiting to see what our patient organizations have to say about this ruling.
We are already seeing what I view as the typical reactions; Viagra is covered but not birth control.
Women's Reproductive Rights
And while it might seem like a clichéd reaction about women's reproductive rights, is it really?
Companies are ok about covering a medication for a man who wants to have an erection, presumably to have sex, at least occasionally in a situation where he may impregnate a woman. That our medical insurance is ok to cover.
The desire to have sex apparently is ok. Even giving someone medication to be able to act on that desire is ok.
Having medical insurance cover a medication that will enable a woman to ensure there is no unwanted pregnancy, that is a problem?
And why is it a problem? Is it as simple as, "if a man was the one to become pregnant, it would be covered"?
Is it even as simple as, "the morning after pill is being used as birth control but actually amounts to abortion"?
Is it possibility as simple as, "pregnancy and unwanted pregnancies, in particular, are a woman's problem"?
I don't even pretend to know society's definitive answers to any of those questions. I'm quite certain it would depend on which part of our society was responding. I'm equally as sure that there are polarizing opinions out there, creating massive divides between us.
Interestingly enough, while I understand and appreciate the intellectual, cognitive conversation about this and can sympathize with more than one side -- emotionally? That's a different story.
Burwell v. Hobby Lobby - Ruth Bader Ginsburg and Dissent
Here's my emotional response to Burwell v. Hobby Lobby. Ready for a rant?
You don't want us getting pregnant and having abortions? So you shut down clinics that give reliable, understandable and affordable reproductive information. We allow men to have medications that give them erections but these medications do nothing to prevent an unwanted pregnancy. We don't allow women to protect themselves from having babies? What does that say about women having sex? We can have sex but only if we are afraid? Are you kidding me? Are we really going to add fuel to the maelstrom conversation about abortion? Now, not only is it more and more difficult to end an unwanted pregnancy, we will make it harder and harder to avoid getting pregnant? Are you kidding me?
What century are we living in? Are men only going to be allowed to have Viagra if there is proof of a marriage to a heterosexual woman? Will they be followed up to make sure that they are only having sex with their wife? After all, otherwise it's adulterous and of course men shouldn't be having sex out of wedlock either.
How far do we go about allowing someone else's religious or moral beliefs impinge on our rights? Companies offer health insurance. Period. End of story. They do not and should not get to decide how, what, or any of the other details.
My opinion. They should not be able to do that.
I disagree, emotionally, with the Supreme Court decision. Most emphatically.
I'm not the only one. Read more in this Huffington Post article for Ruth Bader Ginsberg's 35 page dissent. She is far more eloquent than I am.
End of rant. Thank you for listening.
photo credit: StockMonkeys.com
About Lisa Rosenthal
Lisa has over thirty years of experience in the fertility field. After her personal infertility journey, she felt dissatisfied with the lack of comprehensive services available to support her. She was determined to help others undergoing fertility treatment. Lisa has been with RMACT for eleven years and serves as Patient Advocate and the Strategic Content Lead.
Lisa is the teacher and founder of Fertile Yoga, a program designed to support men and women on their quest for their families through gentle movement and meditation.
Lisa's true passion is supporting patients getting into treatment, being able to stay in treatment and staying whole and complete throughout the process. Lisa is also a Certified Grief Recovery Specialist, which is helpful in her work with fertility patients.
Her experience also includes working with RESOLVE: The National Infertility Association and The American Fertility Association (now Path2Parenthood), where she was Educational Coordinator, Conference Director and Assistant Executive Director.