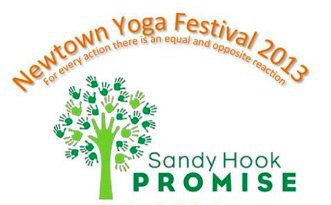 Forgiveness, Healing and Yoga in Sandy Hook, CT and from Within
Healing and Yoga: Messages from the Newtown Yoga Festival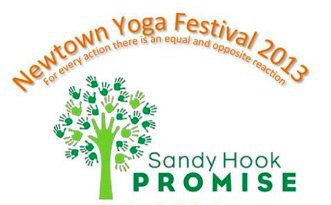 Expression, healing, compassion, empathy and forgiveness. That is what is so often needed for those of us experiencing infertility. Or cancer. Or the loss of a loved one.
Or a tragedy.
All messages given and received in Newtown, CT on Saturday, August 24, 2013.
I was honored to have been able to volunteer for the first annual Newtown Yoga Festival.
Ever since the shootings that took place on December 14, 2012, I've wondered how I can support my community. I consider Newtown, Sandy Hook, my community as I live six minutes away in Brookfield. I know Newtown as well as I know the town I live in. It's an arbitrary geographical/political boundary that makes it a different town.
I've prayed for the families who lost children, sisters, brothers, spouse, friends and colleagues. I've dedicated teaching and my own practice many times for those grieving. When the residents of Sandy Hook and Newtown asked for us to give them some privacy, I respected that and stayed away. There have been fundraisers and awareness-building gatherings that I have attended.
Still, there's been a nagging feeling that there was more to do.
And then one of my mentors, a beloved teacher of mine, Karen Pierce, asked for volunteers.
The Newtown Yoga Festival. With all proceeds to go to the Sandy Hook Promise.
With love and devotion a festival was created, not to celebrate, but to heal.
Not to forget, but to start to forgive.
Forgiveness starts with ourselves. From within.
It was my honor and privilege to have served on Saturday for the Newtown Yoga Festival.
Healing and forgiveness come from within, Seane Corne said, over and over again, eloquently, passionately and tenderly.
Healing Around Infertility: Try Something New
Do you have healing that is needed around your infertility? Is your focus only about becoming pregnant and ignoring the trauma that occurs with disappointment, frustration, loss and grief?
Try something simple, something new. Come to Ladies Night In for some peer support (this Thursday, August 29, in Norwalk, CT at 6:45 p.m.). A group of women who have been through similar experiences, talking, sharing, supporting, crying and laughing.
Try Fertile Yoga, for a gentle, restorative class that soothes the spirit, dedicated just to you (right before Ladies Night In, in Norwalk, from 5:45-6:45 p.m.).
Make an appointment with our mental health professionals, experienced in infertility counseling, Lisa Tuttle or Melissa Kelleher. They will help ease your pain and find a way to live more fully into your life.
Reclaim your own life. Finding healing and forgiveness and offer it out.
We all need it.
Lisa Rosenthal's Google+
About Lisa Rosenthal
Lisa has over thirty years of experience in the fertility field. After her personal infertility journey, she felt dissatisfied with the lack of comprehensive services available to support her. She was determined to help others undergoing fertility treatment. Lisa has been with RMACT for eleven years and serves as Patient Advocate and the Strategic Content Lead.
Lisa is the teacher and founder of Fertile Yoga, a program designed to support men and women on their quest for their families through gentle movement and meditation.
Lisa's true passion is supporting patients getting into treatment, being able to stay in treatment and staying whole and complete throughout the process. Lisa is also a Certified Grief Recovery Specialist, which is helpful in her work with fertility patients.
Her experience also includes working with RESOLVE: The National Infertility Association and The American Fertility Association (now Path2Parenthood), where she was Educational Coordinator, Conference Director and Assistant Executive Director.