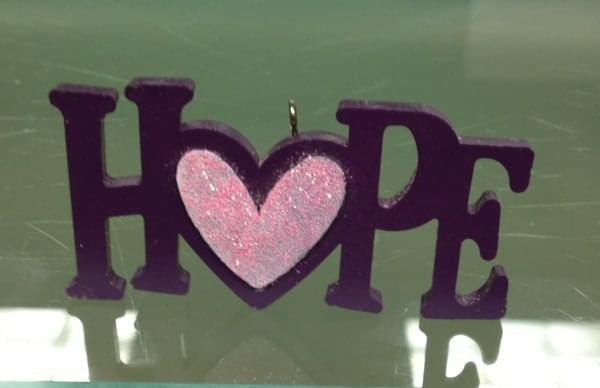 Shared Hope In Infertility Support Group - Ladies Night In
There's Always Hope in Our Infertility Support Group
We shared hope last night in our infertility support group. Literally. See the picture above. One of our lovely ladies, who regularly attends Ladies Night In - RMACT's peer support group, brought in her hope to share. There was a lot of conversation last night around what we see in the mirror while we're in the middle of fertility treatment. This is what we all shared, one after another:
I don't recognize myself when I look in the mirror
All I see is bruises
I've gained so much weight that I need to leave my pants unzipped all the time with shirts on top
My face has changed shape, I can barely see me
I don't see sexy or romantic or pretty, how can my husband see those things?
I see sadness and anger in my eyes
I feel flat, can't touch happiness
Sounds really dark, right? Kind of depressing. Sad. Maybe you're glad right now that you weren't there? Always a good idea to hang in there. Because there was more to come. Here were the other things that were shared:
Hope- literally, we all left with hope in our hands. See the picture above. There was enough to share with everyone
Compassion for ourselves. Compassion for our partners
Laughter about the silliest of things
Glorious smiles
Tears
Wisdom
Strength
Ladies Night In Allowed Us to Share Strength with One Another
At Ladies Night In, what we all seemed to recognize, to one degree or another, when we looked into each other's eyes was strength reflected back. We didn't notice the extra weight or bruising, we saw absolute, determined strength.
For every one of the eleven women last night, there are more out there who have given up. There are women who don't develop the fortitude and perseverance necessary to have losses and bad news and bad outcomes and keep coming back. We may look in the mirror and see slack muscles, extra weight, fatigue, sadness, bruises. Without question, beyond our physical bodies, what is reflected right back at us is Hope. And Strength. We are strong.
Thank you to everyone who came last night. It is an honor and privilage for Carrie Vann Steen and I to spend time with you. Thank you for sharing your hope and strength with us. It elevates us all by reminding us that we are courageous beings, right down to our core. Sending you all hugs this morning.
About Lisa Rosenthal
Lisa has over thirty years of experience in the fertility field. After her personal infertility journey, she felt dissatisfied with the lack of comprehensive services available to support her. She was determined to help others undergoing fertility treatment. Lisa has been with RMACT for eleven years and serves as Patient Advocate and the Strategic Content Lead.
Lisa is the teacher and founder of Fertile Yoga, a program designed to support men and women on their quest for their families through gentle movement and meditation.
Lisa's true passion is supporting patients getting into treatment, being able to stay in treatment and staying whole and complete throughout the process. Lisa is also a Certified Grief Recovery Specialist, which is helpful in her work with fertility patients.
Her experience also includes working with RESOLVE: The National Infertility Association and The American Fertility Association (now Path2Parenthood), where she was Educational Coordinator, Conference Director and Assistant Executive Director.