How to Pick the Right Fertility Program | Lessons from My Cat
Lessons from My Cat on Fertility Program Choices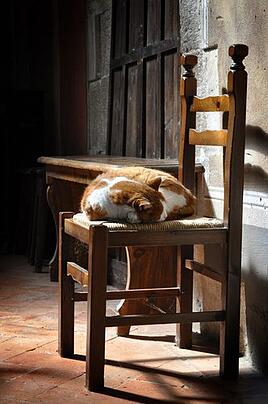 I came home last night.
The only living being in the house was the cat. (I am sure there was a mouse or two also but that's a different story.)
She is not normally a particularly affectionate feline. My nickname for her is Queen of the Universe. Coined for the mere fact that she appears to believe that she owns the place.
Evidenced by her supreme haughtiness, coupled by her insistence that no door shall be closed and no lap shall be unsat upon. Mainly things are done on her timetable.
She does what she wants, when she wants, for however long she wants in exactly the manner in which she wants.
I want to be a cat.
Okay. I want to be my cat.
Anyone else out there want those rules?
Finding the Right Balance During Fertility Treatment
Especially when fertility treatment is involved, it's a fair guess those rules don't exactly apply.
It's entirely and thoroughly possible that if you're managing the diagnosis of infertility, you feel at the mercy of your fertility program. Morning monitoring hours, taking phone calls (often at work, in the middle of the day), making unexpected changes in medication doses, having to change social plans at the last minute and much, much more.
Like I said, I want to be my cat. With my life operating only by my own whim.
Fertility programs don't work that way. Real, HUMAN life doesn't work that way either. Not our jobs. Not our relationships. Not our bodies.
The best we can do sometimes is the best we can do.
Fertility Program Criteria: What to Consider
Find the best fertility program for you. Whatever your criteria is: pregnancy rates, low multiple pregnancy rates, distance from your home, board-certified reproductive endocrinologists, multi-physician program.
Decide what's important to you. Make the best possible choice for yourself. Pick a fertility program that does its best to put your needs first. A fertility program that listens to you. A fertility program that is also willing to push back to give you the best possible results, even if it means disagreeing with you. A fertility program that cares about you as a whole person.
I'm very honored to work for such a program. I'm also happy to tell you that there are quite a few of us out there. Do your homework; pick carefully.
While I can't promise you my cat's life while you are in treatment, I can assure you that you can be treated with professionalism, courtesy, respect,compassion and excellent medical care.
And if that's the best you can do, I believe that's pretty darn good.
About Lisa Rosenthal
Lisa has over thirty years of experience in the fertility field. After her personal infertility journey, she felt dissatisfied with the lack of comprehensive services available to support her. She was determined to help others undergoing fertility treatment. Lisa has been with RMACT for eleven years and serves as Patient Advocate and the Strategic Content Lead.
Lisa is the teacher and founder of Fertile Yoga, a program designed to support men and women on their quest for their families through gentle movement and meditation.
Lisa's true passion is supporting patients getting into treatment, being able to stay in treatment and staying whole and complete throughout the process. Lisa is also a Certified Grief Recovery Specialist, which is helpful in her work with fertility patients.
Her experience also includes working with RESOLVE: The National Infertility Association and The American Fertility Association (now Path2Parenthood), where she was Educational Coordinator, Conference Director and Assistant Executive Director.