April Fool's Day- Not Pregnant? Not Funny.
It's that time of year- where infertility and pregnancy become funny! April Fools- I'm pregnant. Oh, no I'm not.
If it's so funny, how come no one ever says, "April Fools- I'm cancer free. Oh, no I'm not."
Where would you even go with that? Would it be funny that you had cancer, didn't have cancer? Or would the funny part be that you were cancer free, not cancer free.
Can you even imagine that would be funny?
And it could be. Within the community of cancer patients, just like with infertility patients, the jokes and the funny can get very dark, but- and it's a big but (sp), it's within the community.
We Do Laugh About Infertility- And We Cry Too
I've heard ovaries referred to as dried up raisins and that they were so old they needed the cobwebs dusted off. I've heard how someone's sperm count was so low that you had to resort to using only two fingers. I've heard comments about injecting so many drugs that one was single handedly supporting the syringe industry. And I've heard comments so funny in peer support groups (Ladies Night In) that we were laughing so hard, we were crying.
We do joke about infertility. And fertility. And medications. And pregnancies. Within our community. Because we actually get what's funny, what's not, and when.
Being made fun of, rather than partaking in the fun- not the same thing.
Here's what happens in the head and heart of someone trying to get pregnant with the whole April Fools pregnancy joke.
We forget it's April Fool's Day and think the person announcing it is really pregnant.
We get an uncomfortable (sad, resentful, angry, jealous- insert your own feeling) feeling in their stomach, heart, head, throat, muscles.
We almost immediately resort to some version of the following thinking: I should feel happy for her, BUT.... I don't. Or I do, but I'm sad for me. I wonder, will this ever happen for me? Why her and not me? Will it ever be my turn? I hope she appreciates her good fortune. I wonder how long she was trying. Was she even trying? And so on.
We then tend to hide from Facebook because we don't want to see the ultrasound pictures or the "reveals" or the pictures of the "bumps" because they hurt to see! And sometimes, they are inspiring to see. When they're real.
We realize it's April Fool's day and we've been made a fool of- there is no pregnancy, it's just a joke.
Ha. Ha.
It's a lot of reaction for a joke, right?
Still think it's funny?
April Fool's Jokes That Are Hilarious
Let's find some April Fool's jokes that are actually funny.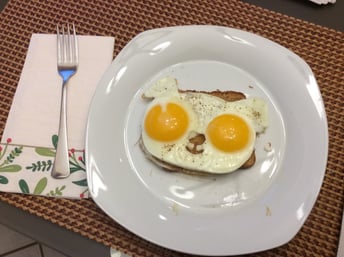 Some of my favorite are food related. I'm not sure why I think that a burger that is actually ice cream or eggs that are actually cake is funny. I just do.
My impression is that there are plenty of ways to celebrate April Fool's Day that won't hurt or upset a single person.
That's my goal. Truly funny without the side of hurt.
See, it's really all about the food.
Happy April Fool's Day- let's keep it kind out there.
About Lisa Rosenthal
Lisa has over thirty years of experience in the fertility field. After her personal infertility journey, she felt dissatisfied with the lack of comprehensive services available to support her. She was determined to help others undergoing fertility treatment. Lisa has been with RMACT for eleven years and serves as Patient Advocate and the Strategic Content Lead.
Lisa is the teacher and founder of Fertile Yoga, a program designed to support men and women on their quest for their families through gentle movement and meditation.
Lisa's true passion is supporting patients getting into treatment, being able to stay in treatment and staying whole and complete throughout the process. Lisa is also a Certified Grief Recovery Specialist, which is helpful in her work with fertility patients.
Her experience also includes working with RESOLVE: The National Infertility Association and The American Fertility Association (now Path2Parenthood), where she was Educational Coordinator, Conference Director and Assistant Executive Director.