Acupuncturist: Jing Zhang MS, Lac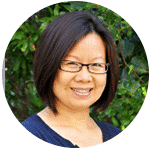 Jing Zhang joined our infertility treatment center in August 2006. Jing holds a M.D. degree from Capital University in Beijing, China, and has fifteen years of experience in acupuncture and Chinese medicine.
While in the United States, Jing completed a three year postgraduate acupuncture program at the AIA Institute in New York. Besides her work at RMACT and her private office in Stamford, she is an instructor at the Acupuncture Institute of the University of Bridgeport.
Her areas of interest include infertility, anxiety, menstruation disorders, weight control and gastrointestinal problems. Jing sees patients in the Stamford and Norwalk offices.
For more information or an appointment, you may call Jing at 203-981-5439.